'The All And Everything Of Healthy Living' ...
Loaded with insights on how to stay healthy in our modern day, chemical age.
After successfully turning their own health around, Sandipa and Sambodhi Prem, write about nutrient dense food; raw milk; big pharma and big agriculture, who have less interest in your health than you might think.
The book brings in topics such as practical common-sense health and preparing food in time-honoured ways.
Sandipa weaves colour into semi-abstract paintings, responding to the wonder of the natural world.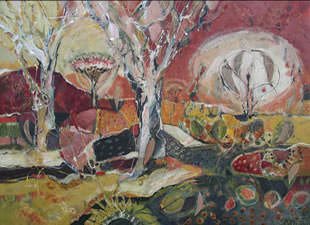 Lalgambook: Billabong
mixed media on canvas
110 x 140 cm